3 kansen met artificial intelligence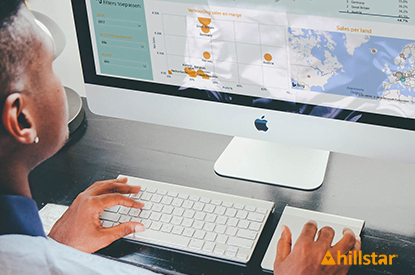 Artificial Intelligence (AI) verovert de retail. Deze drie kansrijke toepassingen – van heatmapping tot het herkennen van gezichtsexpressie – zullen de komende jaren een steeds prominentere plek krijgen in het retaillandschap. Durf de stap te nemen en sta niet te lang stil bij hóe het moet maar start ermee, ook al begint u klein.
1. Optimaliseer uw looproutes
Waar voor webwinkels het volgen van klikgedrag al heel gebruikelijk is, is er in de retail nog een wereld te winnen als het gaat om het verzamelen van nuttige informatie. Zo zijn er tegenwoordig tal van mogelijkheden om met behulp van artificial intelligence in kaart te brengen wat er op de winkelvloer gebeurt, bijvoorbeeld met behulp van slimme camera's, sensoren in verlichting, beacons én de gps-functie in smartphones van klanten. Dat levert interessante informatie op. Naar welke producten kijken klanten het langst? Welke artikelen verkopen goed en op welke plek? Door die data te visualiseren kunt u  een zogenaamde 'heatmap' creëren. Deze gegevens zijn vooral nuttig voor het optimaliseren van bijvoorbeeld de looproutes.
2. Personaliseer de winkelbeleving
Gezichtsherkenning: er wordt de laatste jaren al volop mee geëxperimenteerd. Wat is het sentiment van de persoon die de winkel binnen stapt? Slimme camera's registreren zorgvuldig de expressie van de klant, zo kunt u een inschatting maken of de persoon in kwestie bijvoorbeeld in een vrolijke stemming is. De retailoplossing LS Insight van LS Retail biedt hiervoor al mogelijkheden. Deze informatie kunt u combineren met reeds beschikbare data. Op basis van member management ziet uw verkoopmedewerker direct wie de betreffende klant is én wat hij of zij de vorige keer heeft gekocht. Zo kan een voorspelling worden gedaan over de kans op een vervolgaankoop, wat resulteert in : een verrijking van de klantervaring.
3. Verbeter uw klantenservice
Tot slot is artificial intelligence ook interessant voor het automatiseren van een deel van de sales en aftersales. Denk hierbij aan emails die alleen nog maar door een servicemedewerker gecontroleerd hoeven te worden of chatbots die vragen van consumenten beantwoorden zodat klanten op een laagdrempelige en efficiënte manier worden geholpen. Er bestaan zelfs al tools om te analyseren hoeveel werk een bepaalde melding vereist, hoeveel tijd er zit tussen de vragen van de gebruiker en de antwoorden van de servicemedewerker en hoe het taalgebruik is. Het systeem leert van alle signalen en geeft een inschatting over hoe aannemelijk het is dat de klant tevreden zal zijn.
Zesde zintuig
Op dit moment maakt zo'n dertig procent van de retailers gebruik van artificial intelligence. De verwachting is dat dit percentage de komende jaren flink zal stijgen. Consumenten omarmen artificial intelligence, blijkt uit nieuw onderzoek van Capgemini's Digital Transformation Institute, al is de . Experts voorspellen dat AI in de toekomst een soort 'zesde zintuig' wordt ter ondersteuning van steeds complexere klantconversaties.
Wilt u meer weten over de mogelijkheden van artificial intelligence? TCOG en Hillstar staan voor u klaar met professioneel advies. Neem contact met ons op via sales@tcog.nl.